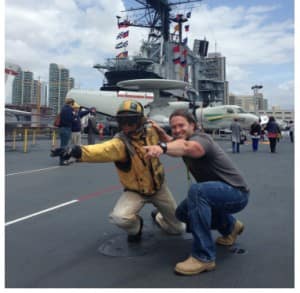 Hi, I'm Tristan and I believe any busy person can change their body and achieve the healthy lifestyle they deserve a lot faster and a lot less stressfully than you would probably think.
My mission is to help a specific section of our society: busy people just like me.
I'm taking about people with so little time in their lives: busy parents, stressed stay home mums (and dads), people who find their jobs and lives swallowed up with hectic schedules.  Really anyone who is busy but knows that with the right help they can have a healthy and fit body and also a lifestyle that allows them to be happy.
I'm going to tell you a bit about my background and my mission here beginning with a story of how I went from a 17 year old world traveler to a fitness professional and stay home father of 4 young children under the age of 6, balancing multiple health & fitness businesses, busy bootcamps and private clients all while I also planned school lunches, after school activities and endless play dates…
I don't work in crowded commercial gyms anymore. I left that behind to focus on the people like me who have a hectic lifestyle and limited time to train or get fit.  I don't know everything but If there's something I do know now its balancing a crazy daily schedule with real, body and life changing fitness plans that give results.
So if the person above sounds a bit like you or if you're ready to get fit without having your whole life revolve around it then I'm excited to help you get healthy, take a huge load off and have a balanced and awesome life that you control.
Sound good?
Cool… I'll start my story here from the age of 17…
PS: Feel free to browse the site, join me on Instagram and/or Facebook and if you need anything just get in touch.
I grew up in a small village in England. (Like a 'Shire' in The Lord of The Rings…:)
Looking back now it was awesome but like most young people I wanted out as soon as possible.
The village I grew up in was a 'great place to be a kid'…with lakes, hundreds of fields, very old buildings, ghosts (me and my mates searched…) 3 pubs, 4 churches, a school and numerous farms…
I liked to stay active and played sports like football (soccer) and others like rugby and cricket and did athletics at my school. There was no Internet and no computer games when I was young – we got our hands dirty old school style.
Up to the age of 17 I'd never even lifted a weight, cared to, or even knew how. However, weeks before my 17th birthday I'd been memorizing an advertisement in the Sunday papers for a fitness and workout program that you could get via mail order.
I never even knew what a real workout program was. I saved up.
The package arrived. It was the first time I'd actually bought a birthday gift for myself.
I remember the anticipation of opening the simple brown envelope. It was heavy. I was excited.
The course was a book. No videos or DVD's. Just a book. But I read that thing back to front – a hundred times over.
It contained pages of totally mesmerizing fitness advice with simple stick men diagrams that I studied eagerly. 
I had no one to show me anything like proper form or technique so I learned by trial and error.
That book (and I realize this even more now) was packed with solid old school health and fitness guidance – not the latest fluff or untested hypothesis. There was no snazzy marketing or bright packaging just pure simple content and valuable advice.
A few weeks before this I'd got myself a job as a lifeguard and soon saved enough to buy some weights and managed to fit a bench and a bar in my tiny bedroom. (My mum was mad)
A few days later I started. I stuck to that 12 week program like a man possessed. And I loved it.
That one book completely changed my life. Not just because I put on some muscle and could see a real change in my body, but because it opened a door to what became one of the most important things in my life: self respect and self motivation and being the sole person in charge of my body and if it was fit or unhealthy. It was basically all down to me.
No one else would be accountable for that. This was my body. I was in charge. This was how it should be.
Since that moment I've worked out and strived to lead a healthy life that I control – completely. And it all started with a small advertisement in an English newspaper and a curiosity to take a leap of faith.
A new chapter of my life was coming up next and as all my friends were getting ready to go to college I wanted something different than what was expected so I left school, walked away from good grades and a chance to party for a few years in some college somewhere to go my own way.
I started off around the UK. doing anything from lifeguard work to bartending just to see different places and a bit more of my own country.
Then a soon as I felt the time was right I spread my wings even more and began traveling to other countries and started my journey of worldwide exploration – working at numerous part time jobs to pay for my next plane/boat/bus/elephant ride to a new destination.
I had an amazing time and 'worked' in beach side bars, construction, semi pro soccer and taught jet skiing and water sports on sun drenched islands. I didn't miss college or think about it once.
During this time I also found work in health & fitness clubs. I got paid to attend numerous courses to get trained and educated. It was an exciting time and great opportunities.
This was the moment that my interest in fitness exploded into a lifelong passion and real paid jobs that allowed me to help other people. I felt very lucky.
As I traveled I'd find work in other health clubs and gyms and felt a real purpose that wasn't just related to making enough money to move on again. I was now helping other people, training myself, learning more and more about health and fitness and anatomy etc and loving what I was doing.
This fun time of my life continued into my late twenties. Then, just as I was planning my next destination (a break to travel in Nepal) life threw a curveball and I headed into a stage of my life I never ever expected.
At the turn of the millennium on a beach in Thailand I met a girl. Everything changed. Life was immediately even more fun. At that exact time I had around $150 in my pocket and my backpack. I passed on going to Nepal to instead follow a girl to her home in America.
I'd been in America a few times before, but this time I was staying. Now I was heading into a settled lifestyle.
And it was different – it was bigger than anything else before: I was beginning a new life in a new country with no plans to hop to the next place in a few months.
It was the real deal and I knew it was going to be great.
My wife and I now have 4 young children: a girl and 3 rowdy boys. Life is crazy.
I'm sure as you read this now you can relate to being busy. You understand how things change like a 180 degree flip when responsibilities, work, family and commitments all slip into your life.
I had to change. I got organized. I got a bit more structured (just a bit), and I put my mind to building some roots and a foundation. I had a new home and decided I wanted to help other people get healthy while juggling a busy lifestyle.
So today, as well as raising a family with my amazing wife, I've built a career in health and fitness. I run fitness bootcamps and online health businesses during my children's nap time and train private clients in the evenings before reading my kids books at bed time or early in the morning when my children are still asleep.
I feel very lucky and I love helping other people to see you can have a very busy life but still find time for yourself and your health.
I made a decision that the moment I stopped 'country-hopping', started my fitness businesses and had a family, that I'd focus on making sure I never got sloppy or found excuses for not working to keep my body healthy, or fail to find time to show my kids that health will always be one of the most important things in our lives.
I do this now by helping as many people as possible whose lives are also busy. Those of us who really want to get and keep a healthy body without living in the gym or losing the balance in our lives.
My passion is my family, fitness and providing workouts and health advice to other people like me who are juggling the curve balls that life throws at us – 95% of us are not interested in a healthy lifestyle so we can enter the Olympics but simply to feel good about ourselves and be a role model for our families and friends.
My mission is to show you that you can easily do that and get a fit body using the limited time you may have while juggling a crazy and hectic lifestyle.
As I said: That's my life and I've spent many years 'hacking it' so I can help you.
Ok, I hope this brief story has shown you that I really can understand 'busy' and that I can help you. And importantly that I'd like to help you.
I live this type of 'control over chaos' lifestyle everyday and I'm fitter now than I was in my twenties, I control my life and I make it work for me.
I make it a rule to get fitter, healthier and happier each day and easily find time (even if its only a small amount somedays) to workout and stay on track to be the best role model to my children that I can be.
Being healthy and fit leads to confidence, happiness and self respect. It can be achieved even if you are the busiest person in the world and it will actually help you balance your life better by feeling good about yourself and in control.
So if you're busy, if you know deep down that you can handle it all, and believe you can balance the craziness and enjoy those moments where a fun, effective workout can lift you above the daily grind, you're in the right place. This is our growing community of people just like you and me. I'm excited to invite you to join us and get started.
Here is my YouTube Channel where you can workout with me right now using free follow along video workouts – I upload new ones regularly.
You can learn about ColorFit Workouts here and get your SEASONS calendar gift here
Join me on the social platforms below and share, share and share some more with your friends and family.
Right that's all for now,
Thanks for checking the site out and I'm excited for you to change your body and your life.
Get all the latest news, workouts, surprises

+ more

from Tristan