Equipment To Help
Your

Body Changing Journey
Mats, Bands, Shirts, Weights and more...
Eventually, using more than just body weight can take you to the next level…
When I started my YouTube Channel I focused a lot on home body weight workouts.
These are great as they allow anyone, anywhere to do workouts with no equipment (maybe a chair or some soup cans!) but 99.9% of the time they use just our body weight.
These workouts are great and will always be a solid foundation to exercise and working out.
BUT: I am a big believer in progression and improvement.  When your body has got used to new movement patterns, fresh exercises, and built up muscle strength and good form its highly beneficial to add in workouts that use new exercise equipment and resistance.
Here on this page I'll share links to the equipment I use, recommend, have tested and have created my  ColorFit Workouts around.  Check them out below, I'll add new ones I recommend for you to get, as I use them and approve of them.
1) The workout mat I use: 

here
This is a mat I've used indoors for all my workouts.  I love it.  You can check it out here and find different sizes and colors: (as with all mats, they go in and out of stock, so look on the page for other similar items if you see it currently out of stock)
I hope these pieces of equipment are helpful, I think they'll be a great addition to your fitness arsenal and serve you very well for a long, long time.
My sincere best wishes,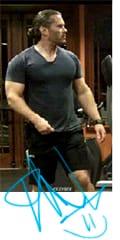 Get all the latest news, workouts, surprises

+ more

from Tristan