The idea and reason for my fitness site is essentially to simplify the process of getting a healthy body for people who have busy lives.
Health & Fitness can always be made more complicated like most things (that's actually not a bad thing as many people like to really get into details of many specific areas of health and exercise: everything from diets to new fitness protocols or the latest health gear that hits the market etc).
But in my mind you're like me and you're a busy person and we all need somewhere to begin. I set up this site and my follow along video workouts to be easy to pick up and use right away. You see there's always been fundamentals that will work and they won't change:
There are 3 steps that I'll simplify now for you, to get you started and to have you focus on, that will help you get your best body. Everything you do from here out should be built on these first.
Yes you can and will of course broaden your horizons with all the exciting and interesting fitness info out there as you progress, but I want to start you off with a simple plan to focus on and save you confusion.  And always remember these 3 are – in my opinion – your foundation and the fundamentals that will give you results.
Here they are:
1. Understand your calorie needs as 80% of your TDEE
Go here and work out 80% of your TDEE (total daily energy expenditure). Sounds confusing?  It's not. But it will be the main foundation to you losing weight and changing how your body looks. Read through the info at this link on my site and at the bottom of the page you'll see a calculator link for TDEE.
2. Exercise and
challenge

your body
Choose a workout or program to do from my YouTube channel. Try to do at least 2-3 a week with a days rest in-between. You can do any ColorFit Workout 'randomly' when it fits your schedule by following along with the workout video. You could get a plan for the colorfit workouts by using my free SEASONS exercise calendar to follow some structured plans if you prefer to begin with. Or you can simply join one of my latest full workout programs on my channel. 
3. Accept a consistent
long term

lifestyle change
Understand that this is a lifestyle change and you need to be consistent. There is no shortcut to changing your body. But if you're aware of this starting off you'll stay on this journey and see results. Afterall, your best body – that you alone are capable of achieving – is the ultimate reward to work for, but there are many quick and immediate benefits you'll experience as soon as you begin this journey and they include a new control over your life and a better sense of wellbeing, self respect, pride and satisfaction everyday through a commitment to regular exercise.
Don't make the mistake of thinking this goal of an 'amazing body' is supposed to work in a few weeks, it won't. There is much more to this lifestyle change that will benefit you over and over, but if you set out with the wrong expectations you'll lose focus and hope. You can do this as long as you set your mind right from day one. And I'm doing this for the long haul with you so you can stay on the path and enjoy progressive successes that lead to an awesome lifestyle change, not some 'fake and short term quick fix'.
There is nothing else I will say in this message to you. These 3 things are your focus from here out. Everything else that's good in health and fitness will come from mastering these 3.
It won't take you long to master these if you're serious about wanting to change your body and your life.
I hope this helps,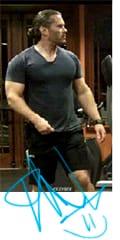 Get all the latest news, workouts, surprises

+ more

from Tristan